Regular price
$9.00 AUD
Sale price
$6.00 AUD
Unit price
per
Sale
Sold out
Share
Description
All fruits featured are in season during Christmas time and remind me of that time of the year. Most Christmas cards I have purchased over the years have generic Australian native plants that are not necessarily a reflection of how I remember Christmas time.  Truthfully, as a kid I would get more excited about the fruits in season on Country than Christmas dinner or lunch. No disrespect to my Grandmas pickled pork! 🤪
'Buthaya' Art Featured
Buthaya, also known as Lady Apple, is a fruit that I associate with end of year school holidays. I have many memories being on the back of the land cruiser looking for the vibrant red colour in the trees and banging on the roof of the car to signal that I'd seen them. Then quickly jumping off the back tray and rushing to get as many as I could fit in my shirt and hat. Also having to fight off all the green ants that would be all over the fruit. Personally my favourite way to eat it is with salt, and on the occasions when we would forget the salt I would rush down to the beach and dip the Buthaya in the salt water to get the same effect. Even now as an adult when my uncle asks me what I want for Christmas I'll tell him to find me lady apple and bring a bag down for me. Definitely the best fruit of the year for me.
'Bunday' Art Featured
I have no idea what the English name is for Bunday. Some say Beach Cherry but if you look it up online that definitely isn't the picture of the fruit or same leaf. Bunday is a seasonal fruit and the trees get raided every year. Even my cousins and I would by stingy with what we collected and had to have separate containers to know which one belongs to who. And also each of us had an adult we were also collecting the bunday for and had to share it with. As an adult I still get excited for Bunday to come around, however each year trees seem to be producing less and less.
'Mulun' Art Featured
Mulun, also known as blue quondong, grows in the dry season. I used to think of it as a lolly when I was little because of how blue it was and the sour taste of it. Mulun is found in abundance in the tropics, especially here in Gimuy. Typically when I see them I associate them with cassowaries and busk turkeys that would be looking to eat them. I also remember trying to convince other kids in my school that its an edible fruit and them not believing me until I ate it myself. My Grandpa always taught me what bush fruits I could and couldn't eat, out of protection and safety but also so I'm aware that Country always provides.
This piece was created on Gimuy Walubara Yidinji Country in Cairns, QLD.
Details
Card has 'Merry Christmas' on the inside.
Printed in Australia. Comes with an envelope.
Size: 139mm x 107mm
 © Gurrngulart.com, 2022.

View full details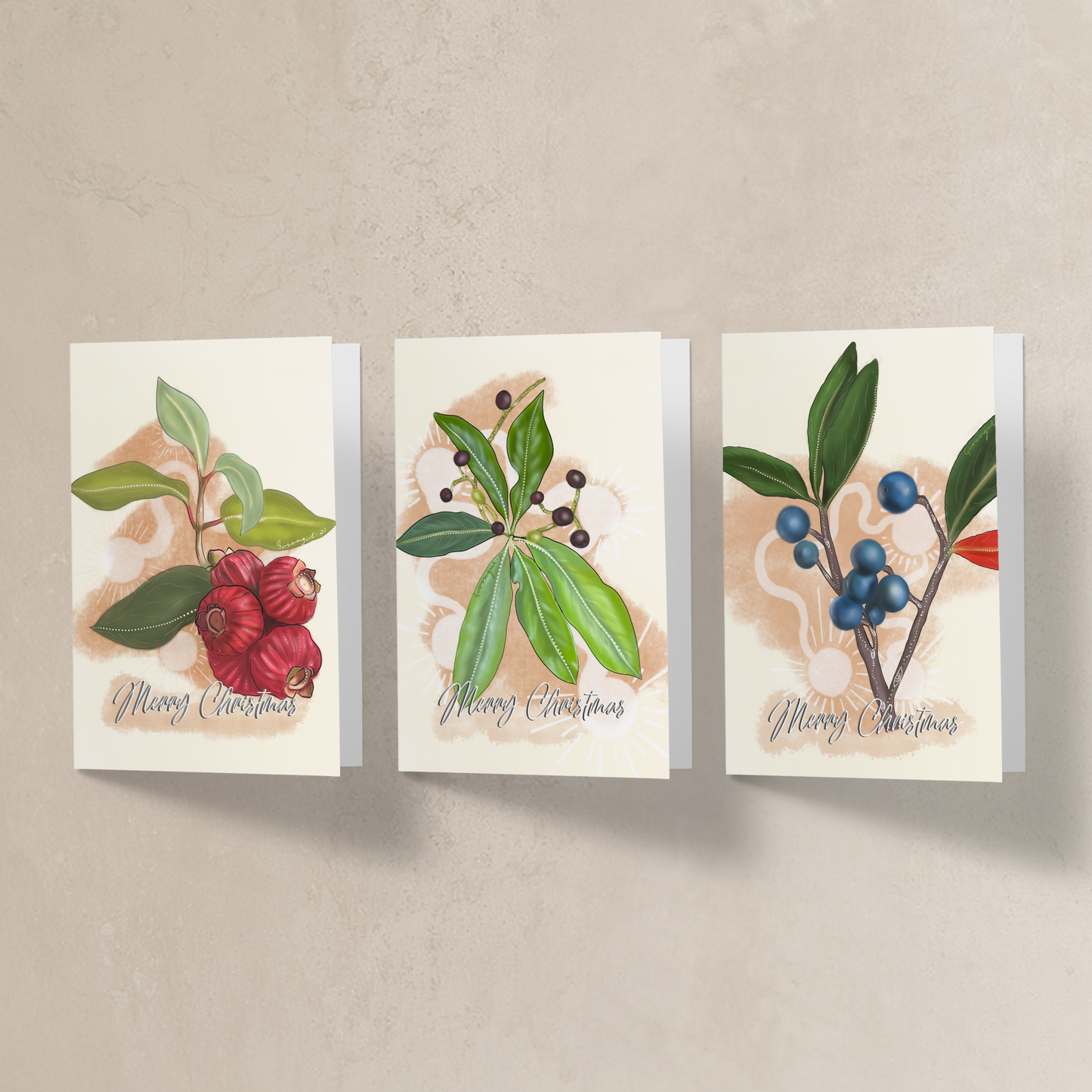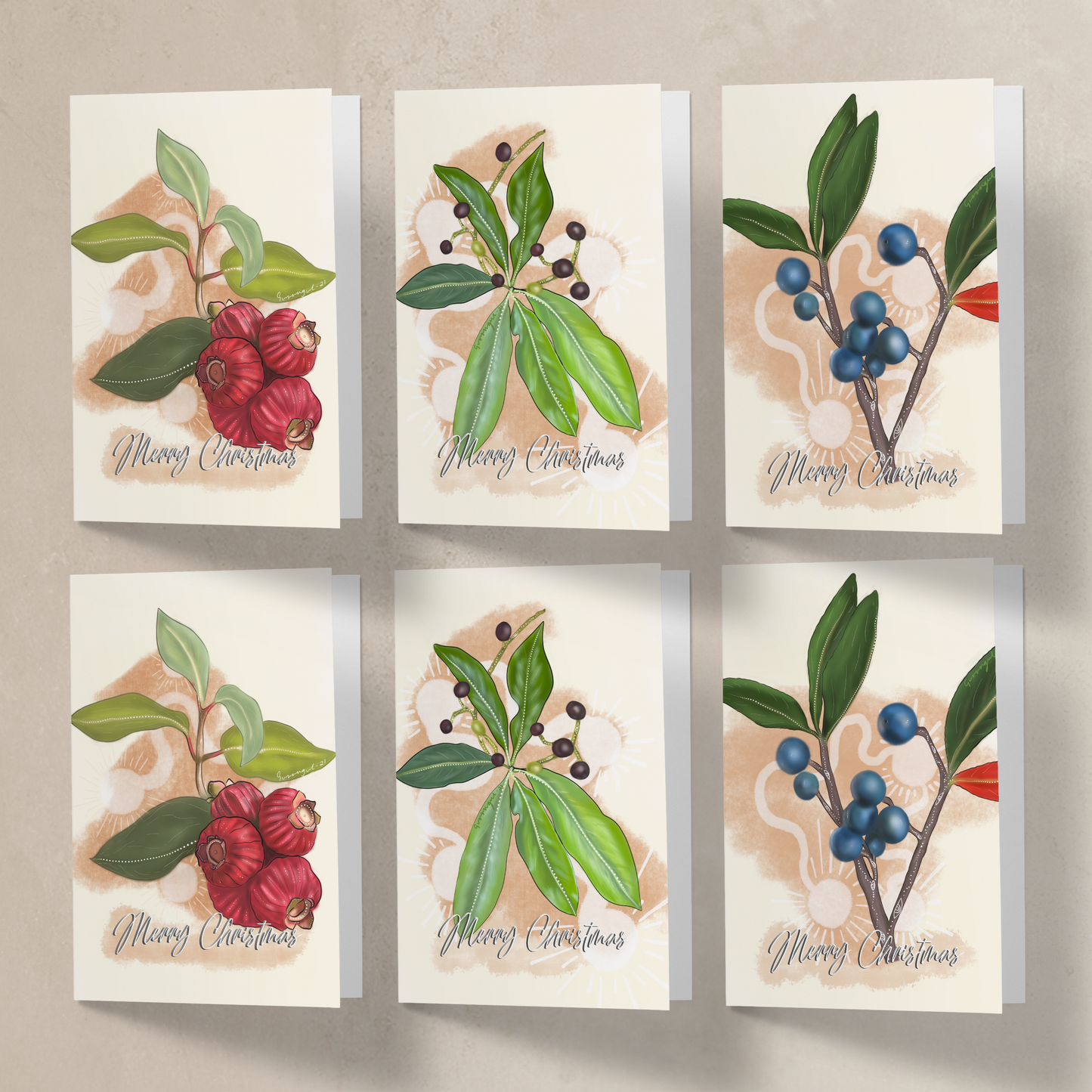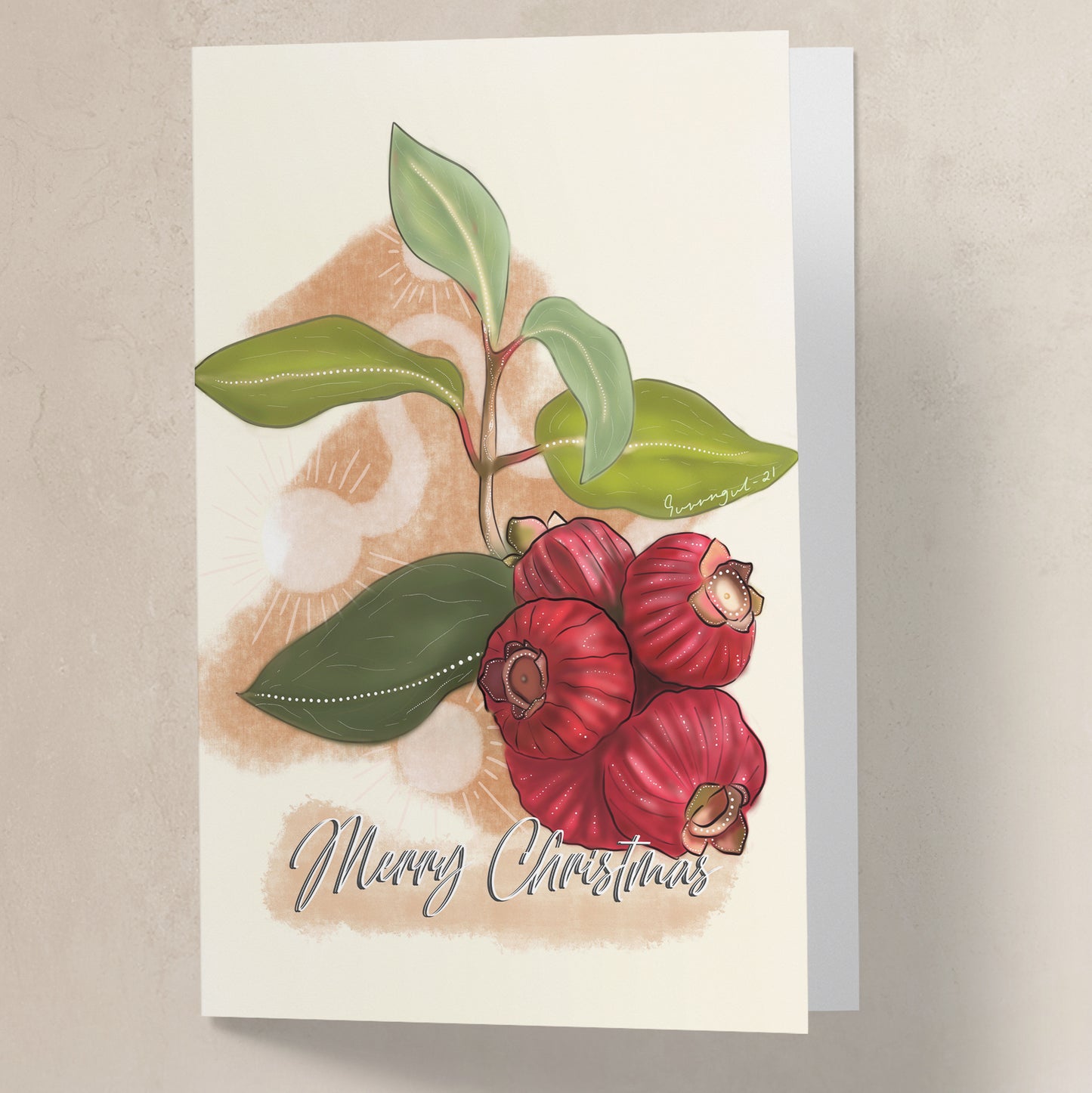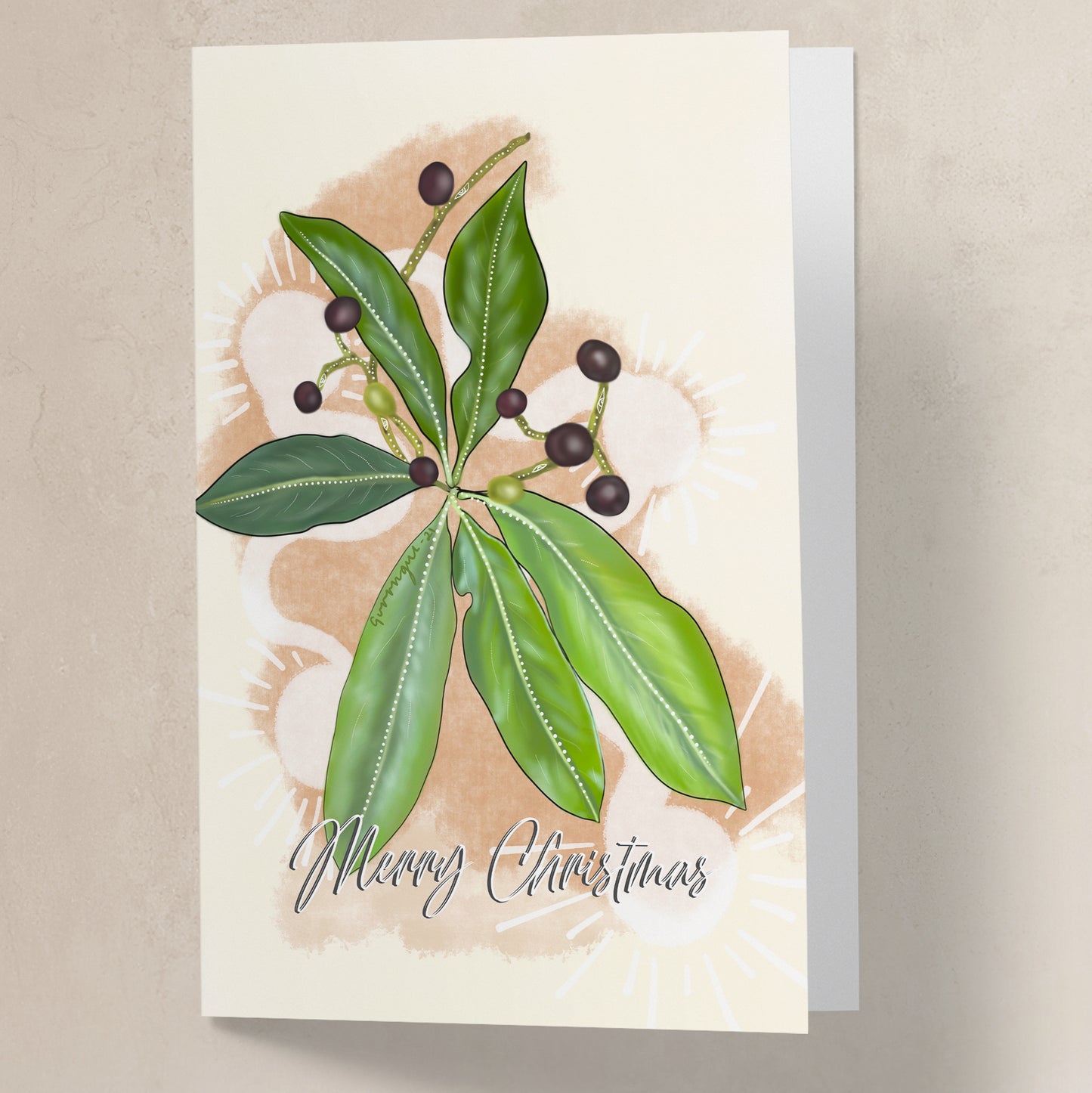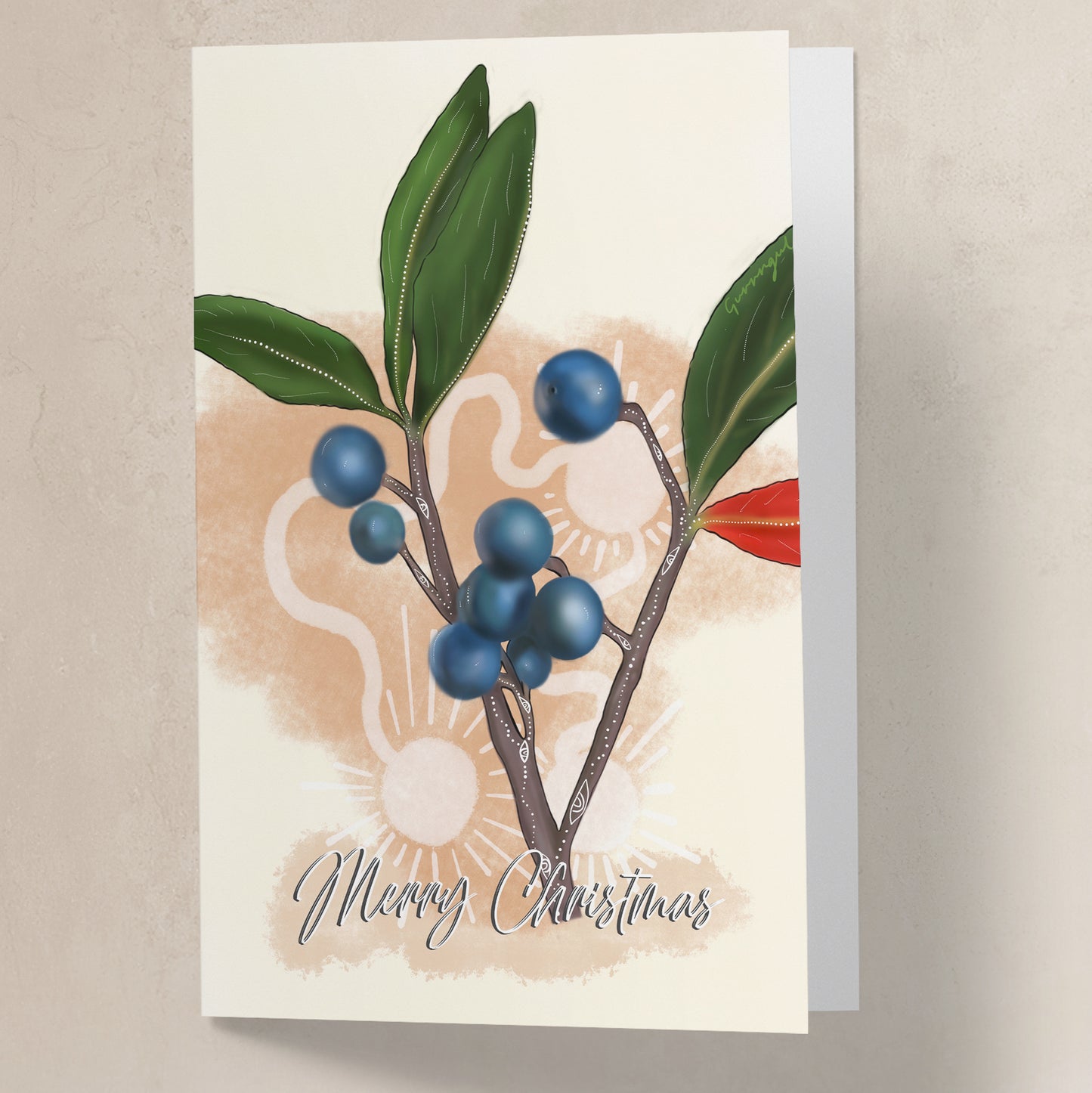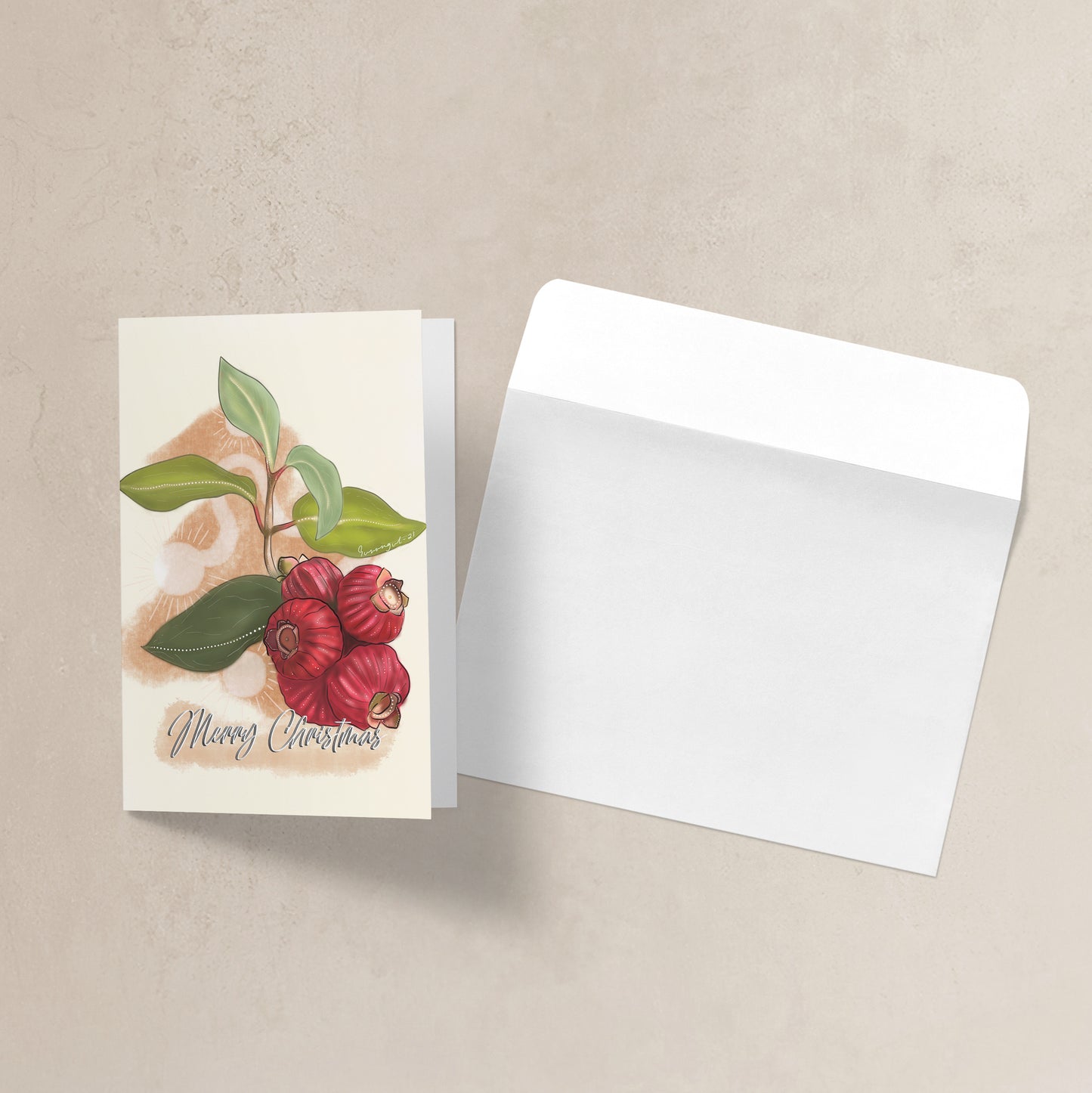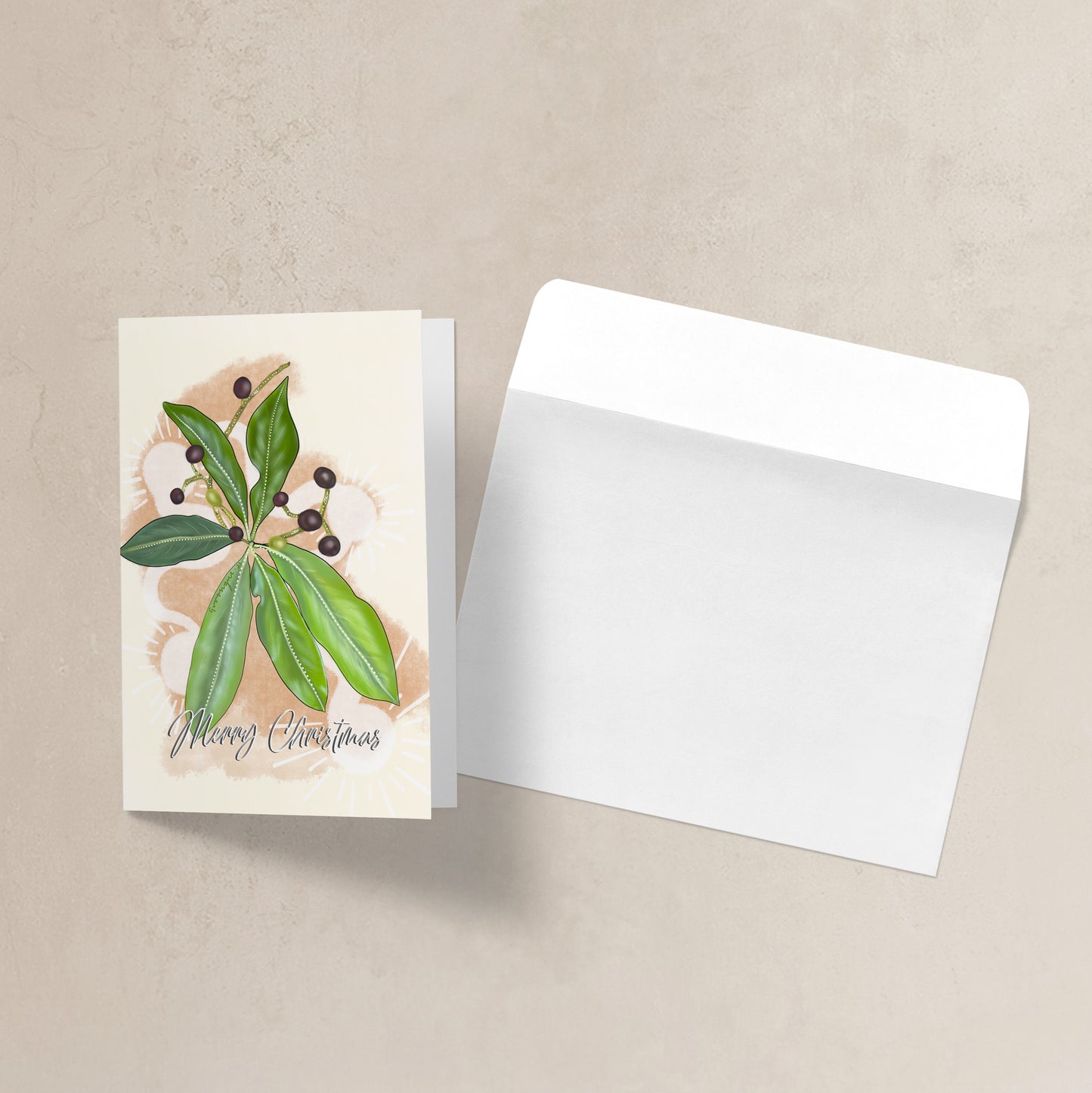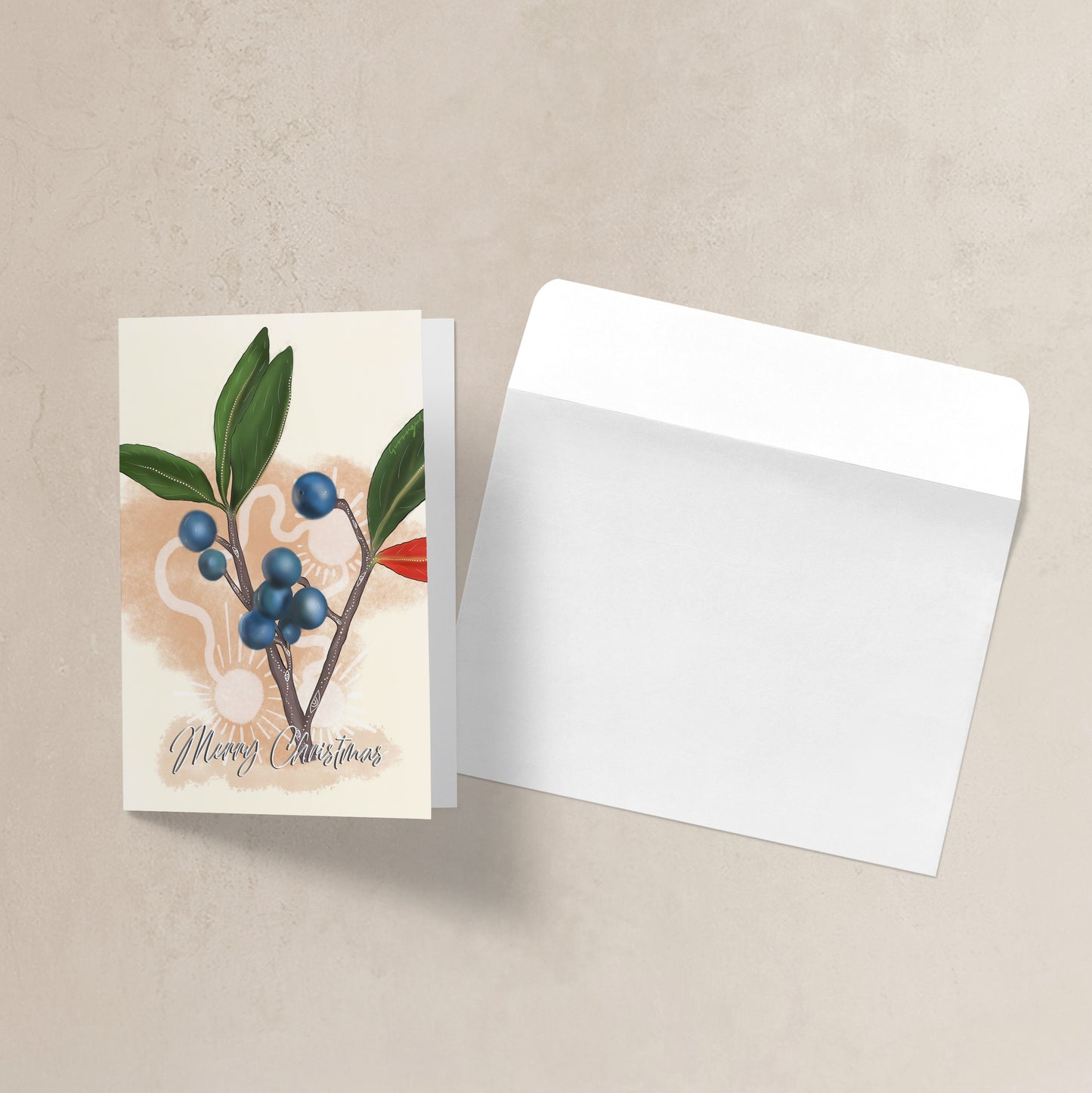 Shipping

Shipping Australia Wide

Shipping costs will be calculated at checkout.

All Prints are made to purchase so please give 3 - 4 weeks for order to arrive.

Read More

Returns

We are not required to provide a refund or replacement if you change your mind due to the nature of the product.

Refunds or exchanges are possible if there is a major problem with the product:

Read More

Sizing

Below is the general size guide for each product. Gurrngul Art set sizing may vary from provided perimeters due to printing processes. 

Reda More